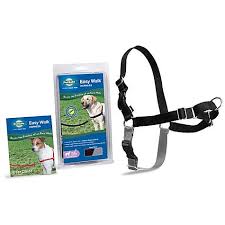 Easy Walk Harness Medium/ Large Black
Enjoy an Easier Walk with Your Pup
If your dog tends to pull on the leash, daily walks can be stressful for both of you. PetSafe's Easy Walk Harness make the task of walking your dog an enjoyable experience. They give you immediate control and they're comfortable for your pet, unlike standard collars that can cause choking.
Description
No more pulling on the leash? Sounds pretty perfect! Enjoy lunge-free walks around the block with the PetSafe Easy Walk Black & Silver Dog Harness. Instead of pulling on your dog's sensitive throat, the Easy Walk Harness attaches  near the chest, allowing you to steer your pup and regain control over the daily walk. Available in multiple sizes to fit any breed.
Key Benefits
Discourages dogs from pulling on the leash, makes walking enjoyable and stress-free for you and your dog.
Quick-snap buckles on shoulder and belly straps for easy on and off. Belly strap is a complementary color, making it easy to tell which strap goes over the shoulders and which strap goes under the belly.
Martingale loop at chest prevents twisting, 4 adjustment points provide maximum comfort and reliable fit.
Ideal for training dogs to walk nicely on a leash.
Chest strap rests across your dog's chest instead of putting pressure on the delicate throat, so there's no choking or gagging.
---
We Also Recommend